I. Philip Paper Series
Features: "Delicious" series of art paper, set the traditional papermaking process and modern processing technology as a whole, the paper surface layer wear-resistant, folding-resistant and show metallic luster and velvet texture; after the color printing screen effect is even more dazzling dynamic. There are currently three types of lines on the Philip paper: beautiful dot patterns, beautiful horizontal stripes, and beautiful silk patterns.
Uses: Geli Paper has excellent performance in all kinds of books, albums, binding covers, promotional posters, advertisements, greeting cards, invitations, fine prints, premium gift boxes, wine box packaging and other applications.
Color: Philip Paper has 11 colors: 01 White, 02 Light Gray, 03 Gray, 04 Ice, 05 Symphony Green, 06 White, 07 Light Yellow, 08 Sky Blue, 09 Symphony Dark Blue, 10 Red, 11 bean red.
Printability: (Heidelberg four-color printing)
Printing machine with infrared or ultraviolet drying device; printing speed can not be greater than 6,000 per hour; dusting particles properly increased; every 200-300 sheets of printed paper need to be separated by plates; using oxidative dry ink. It is best to use Dainippon ink, and the worst is not worse than deep ink. The number of lines in the platemaking is preferably between 150-175. Increase pressure appropriately. Can be hot aluminum, die-cutting, embossing.
II. Color paper also known as: hot melt paper
characteristic:
The paper is a special art paper with a noble color and smooth paper surface; the surface treatment of the color paper can be printed without ink or other hot stamping materials to show the effects of similar ink printing and woodcuts, but also give people a chance to return Real feeling. The white thermo-fuses evenly mixed in the pulp not only add a noble and gorgeous texture to the color paper, but also have a main feature that the paper is heated and the white thermo-fuss melts when the temperature reaches 180 degrees Celsius. Some of the hot-stamped papers are darker in color, resulting in a irreplaceable effect of printing; the hot-ironing effect is good, and the surrounding fire marks are produced, resulting in very good artistic effects. Hot-used version can be used for engraving zinc plate, but the number of hot-soldering, application of engraving copper plate, more durable. The machine used for hot-pressing is an ordinary hot stamping machine. If the hot stamping machine has a delay function, the hot-ironing effect is better.
Uses: Chopping paper has a special effect in book mounting, various packaging gift boxes, greeting cards and other applications. Greeting card, calendar, decorative painting, book cover, ring lining, gift box packaging, gift bags, paper bags, gift packaging.
Color: 02 Skin color, 06 Beige, 07 meters gray, 08 gray green, 09 brown, 10 cyan, 11 army green, 12 purple, 14 mustard green, 15 red, 23 gray.
Three. Environment-friendly leather paper
Characteristics: CYP's leatherette paper is the environment-friendly packaging paper popular in the world today. Its paper is soft, has a leathery feel, a surface layer, and is wear-resistant and folding-resistant. The surface is coated with environmentally friendly water-based raw materials.
Uses: CYP environmental protection paper is widely used in all kinds of books, pictures of the binding cover, girdle, high gift boxes, wine boxes and various types of packaging
Color: CYP Environmental Paper is currently available in color: bright red, dark red, dark blue, dark green, black, grass green.
"CYP" is a registered trademark of Changyi Company. Changyi Art Paper products are mainly high-grade packaging papers. They are crisp and colorful in paper quality, and they have high abrasion resistance, water resistance and water resistance, and they have emerged as a combination of art and technology. CYP high-grade packaging art paper quality is comparable to European and Japanese products, and has now become the preferred packaging material for multinational brand company gift boxes and foreign trade export gift boxes. CYP bright series of packaging art paper provides dozens of different lines, hundreds of colors for customers to choose from, but also according to customer specified lines, colors to R & D custom.

CONTUO Products presents this Manual Converter Desk . Elevate your work flow. Our Standing Desk creates a healthy work space allowing you to balance between sitting down and standing up. The 2-tier design features a monitor tabletop and a keyboard drawer. Ergonomic and innovative, this Adjustable Standing Desk features a smooth, gas-spring lift mechanism with 8 height settings. Raise or lower your work surface within seconds with the push levers located at both sides of the table. The spacious work surface can hold and display dual monitor setup while having space left over for pencil holders and other accessories. Take your productivity and comfort in the work place to new heights, with the Standing Desk Converter by CONTUO.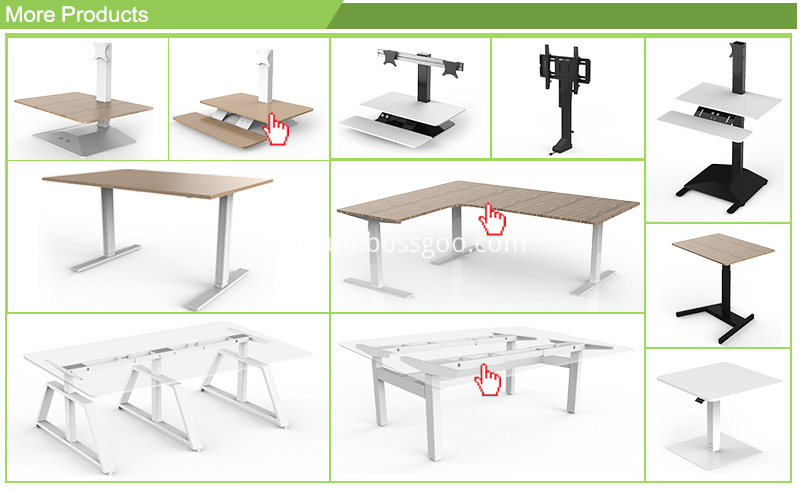 These
Electric Height Adjustable Desk
are widely used in office, home,school and other place, etc. So all
Height Adjustable Desk
are selling very well in the world market. After many years efforts, our Electric Height Adjustable Desk , and Hand Crank Desk ,Standing Desk Converter, Movable Standing Desk, Lifting Column , Tv Stand won good reputation and take very hug market share from all over the world customers.
So, here you can find all the Height Adjustable Desk for working.
CONTUO Height Adjustable Desk for office are very popular in the world.
Manual Converter Desk
Manual Converter Desk,Office Desk Converter,Manual Standing Desk Converter,Desk Riser Converter
Shaoxing contuo Transmission Technology Co.,Ltd , http://www.electricdesk.nl